Michael Bay is hardly anything like Hitler, OK?
Executive producer Steven Spielberg demanded Megan Fox be sacked from the third
Transformers
movie after she compared director Michael Bay to Hitler.
Fox
exited
the project last year, prompting speculation as to whether she jumped or was pushed. Despite denials by the actress, the word on the street was that she was given her marching orders after saying this of Bay in
Wonderland Magazine:
"He's like Napoleon and he wants to create this insane, infamous mad-man reputation. He wants to be like Hitler on his sets, and he is."
Bay has now confirmed Spielberg didn't much like the analogy. He said: "You know the Hitler thing. Steven said, fire her right now."
Smushy-faced Brit model Rosie Huntingdon-Whitley replaced the disgraced Fox, and Spielberg apparently wasn't the only one glad to see the back of her.
According
to the
Daily Mail
, a
Transformers
crew member posted an open letter on Bay's website which explained:
"Michael found this shy, inexperienced girl, plucked her out of total obscurity thus giving her the biggest shot of any young actresses' life. He told everyone around to just trust him on his choice. He granted her the starring role in
Transformers
, a franchise that forever changed her life; she became one of the most googled and oogled [sic] women on earth.
"She was famous! She was the next Angelina Jolie, hooray! Wait a minute, two of us worked with Angelina – second thought – she's no Angelina. You see, Angelina is a professional. We know this quite intimately because we've had the tedious experience of working with the dumb-as-a-rock Megan Fox on both
Transformers
movies."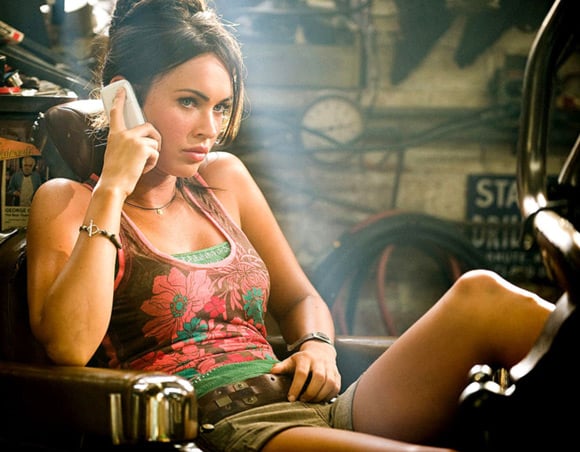 Angelina, this is Megan. Got a copy of
Acting for Dummies
you could lend me?
Down at Michael Bay's
blog
, Rosie Huntington-Whiteley and fellow
Transformers
newcomer Patrick Dempsey appear keen to stay on the right side of Spielberg and dismiss Fox's Hitlerian claims. Huntington-Whiteley describes the director as a "laugh", while Dempsey diplomatically offers: "He wants what he wants and you have to be on it. That's how he works. I loved working with him. I didn't have any problems with him and I don't think [Rosie] did either. He's demanding. He's fun, though. Look at the outcome. He's phenomenal. He's a great filmmaker."
Transformers: Dark Of The Moon
will open in 3D and IMAX cinemas across the US on 28 June. Paramount Pictures vice chairman, Rob Moore, is confident the movie will avoid a
basketful of Razzies
, and enthused: "Michael Bay has created an incredibly engaging and immersive 3D experience with this latest movie, one that will undoubtedly be among the most entertaining movie going experiences of the summer."